Need Your Asphalt Driveway Sealed?
The cost of new asphalt installation makes sealcoating the most cost effective way to maintain your asphalt driveway for the longest life possible. Sealcoating protects your asphalt from the harmful elements that lead to asphalt deterioration. With routine asphalt maintenance including crack sealing and sealcoating you can double the life of your asphalt driveway. Having your driveway professionally sealcoated slows oxidation from the sun and weather proofing agents repel water, the leading cause of asphalt deterioration. Asphalt driveways left unsealed will suffer base damage from water that will penetrate the surface and create cracks eventually forming pot holes and require patching or replacement.
Our team of driveway sealcoating professionals are fully trained and will thoroughly pre-clean the surface prior to sealcoat application. We only use commercial grade products applied carefully and at the recommended rates.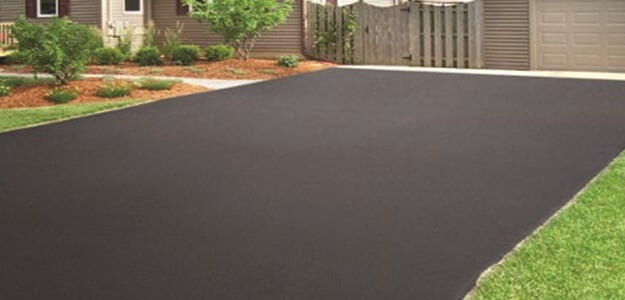 The Twin Cities Paving Asphalt Driveway Sealcoating Experience:
1. Get A Free Quote 
Contact us online or call us at (651) 302-6538 to request a free quote. You'll talk to a friendly customer service specialist that will take all the information needed to provide you a quote right over the phone, it only takes about 10 minutes! 
2. Schedule Your Service 
We will work with you to schedule a date and time that is convenient for you to perform the asphalt driveway installation. 
3. Receive notification before arrival 
On the date we are going to perform your asphalt driveway installation, we will notify you when our crew is on the way to your home or business, so you know exactly when they will be arriving. 
4. Sealcoat your asphalt driveway
During your asphalt driveway sealcoating project we will clean your driveway of any debris including rocks and grass or weeds. We then apply a thick layer of sealcoat and rope off the driveway to prevent any cars being driven on it.
5. Give us feedback 
Finally, we'll ask you for your feedback on how we did so we can make sure you were completely satisfied. And if you're not? Let us know, we'll make things right!
Twin Cities Paving covers the entire Twin Cities Metro. Whether you are a homeowner or business that needs asphalt repair or asphalt replacement; we are the best choice for you.