Maplewood, MN Asphalt Paving Services?
Maplewood, MN needs experts to perform a new Asphalt Driveway or Asphalt Parking Lot. Twin Cities Paving is your best choice for your new asphalt driveway and asphalt parking lot. Some contractors will push their customers for new asphalt every time. However, sometimes they are cheaper options that can be performed to save you money while still offering a nice looking asphalt driveway or asphalt parking lot .
With over 20 years experience Twin Cities Paving gets the job done right; the first time. Give us a call and we will gladly provide a free estimate without being "pushed" into a sale.
Are you tired of calling an Asphalt Company for an estimate and they do not answer the phone? Or if they do answer, you have to "wait" for a sales person to call you back? We hear this over and over again…they never called me back! Not with Twin Cities Paving we answer our calls and when we do not we return the call promptly.
We are literally paving the way for a new experience between customer and Asphalt contractor. We are completely different than all the other Asphalt Companies in the Twin Cities. We communicate well and efficiently. You will not be waiting days or weeks to receive an estimate. Most of the time, we can quote right over the phone. However, we will still send someone out to meet you because we enjoy meeting our customers. Give us a call or contact us through our website and we will email you back quickly!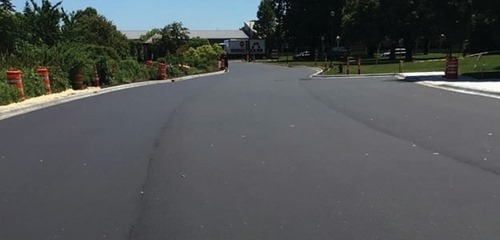 Let's Build Something Together
Do you have a unique driveway or a unique design in mind. We'll work with you patiently to help you plan your perfect asphalt driveway.
Do I need a new asphalt driveway?
Great question! An honest sales person will tell you the best advice for your asphalt driveway. Sometimes; crackfilling and sealcoating is the best option. We'll help you out with that!
Are you a reliable company?
With over 20 years experience in the Asphalt Industry we have seen companies come and go; we're here for good! We love this business; it's in our blood.
I've heard of contractors installing less material than originally quoted. Will you do that?
No way! Our reputation is on the line; plus we're a family owned business we would hate to cheat someone on the thickness of their driveway. Our driveways are built to last; we don't skim on material; if anything we put more!
The Twin Cities Paving Asphalt Driveway Installation Experience:
1. Get A Free Quote  
Contact us online or call us at (651) 302-6538 to request a free quote. You'll talk to a friendly customer service specialist that will take all the information needed to provide you a quote right over the phone, it only takes about 10 minutes!  
2. Schedule Your Service
We will work with you to schedule a date and time that is convenient for you to perform the asphalt driveway installation.  
3. Receive notification before arrival  
On the date we are going to perform your asphalt driveway installation, we will notify you when our crew is on the way to your home or business, so you know exactly when they will be arriving.  
4. Pave your driveway with asphalt  
During your driveway project we will prepare the ground for your new asphalt driveway and once ready we will install your new driveway and smooth it with the proper equipment.  
5. Give us feedback  
Finally, we'll ask you for your feedback on how we did so we can make sure you were completely satisfied. And if you're not? Let us know, we'll make things right!
Twin Cities Paving covers the entire Twin Cities Metro. Whether you are a homeowner or business that needs asphalt repair or asphalt replacement; we are the best choice for you.