Woodbury Parking Lot Striping
Woodbury parking lot at your business is the first thing customers see and experience when they arrive at your business. At Twin Cities Paving we understand that first impressions matter and we can help you create a positive image by keeping your parking lot safe and easy to navigate with clearly marked parking spots and travel lanes.
Whether you are looking to just have your parking lot re-striped or want a new design for better traffic flow and pedestrian safety, you can count on Twin Cities Paving. We have over 15 years of experience in the industry and have the tools and staff to complete your parking lot striping project in a timely and safe manner.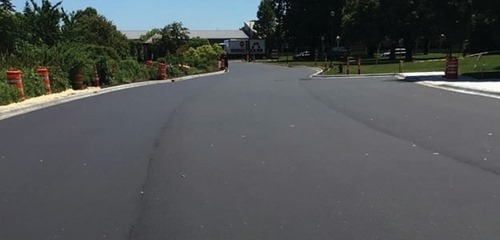 Woodbury Parking Lot Striping Experience:

1. Get A Free Quote 
Contact us online or call us at (651) 302-6538 to request a free quote. You'll talk to a friendly customer service specialist that will take all the information needed to provide you a quote right over the phone, it only takes about 10 minutes! 
2. Schedule Your Service 
We will work with you to schedule a date and time that is convenient for you to perform the parking lot striping.
3. Receive notification before arrival 
On the date we are going to perform your parking lot striping, we will notify you when our crew is on the way to your business, so you know exactly when they will be arriving. 
4. Parking lot striping
During your parking lot striping our crews clean the entire area.  Then we stripe the lines for all applicable areas using a high quality commercial grade product.
5. Give us feedback 
Finally, we'll ask you for your feedback on how we did so we can make sure you were completely satisfied. And if you're not? Let us know, we'll make things right!
Twin Cities Paving covers the entire Twin Cities Metro. Whether you are a homeowner or business that needs asphalt repair or asphalt replacement; we are the best choice for you.